RICHARDS
BLVD
OFFICE
COMPLEX
Sacramento, CA
Client: California Department of General Services
The multifaceted and highly sustainable Richards Boulevard Office Complex, the State of California's largest office complex designed to house up to 5,000 workers, will re-establish the urban fabric of Sacramento's River District. The 17.3-acre campus consists of four high-performance office towers, over a multi-function podium, and a parking structure on a site north of Downtown Sacramento. Materials used in both the architecture and landscape reflect the River District's eclectic industrial heritage—wood and metal. The complex is designed to achieve zero net energy (ZNE) and zero net carbon (ZNC).
CATALYTIC INFILL TO ACTIVATE DE-INDUSTRIALIZATION
The site was selected by the State of California to cultivate investment in an underutilized part of Sacramento, proximate to light rail. RBOC is viewed as an anchor revitalization effort, spurring future adaptive-use and construction projects. RELM's landscape honors the city's street grid while the Green Pathway connects RBOC's three parcels to create a campus spine, the street network to the south, the light rail stop to the north, and ultimately towards the American River.
CONTOURING NATURE'S MOVEMENT
The open space network functions as an ecological corridor connecting the river's habitat, fauna, and sheet flows to the vast open spaces of the rail yards to the south. All forms of life activate this north-south corridor: people, birds, pollinators, plant biomes. The complex looks to maximize biodiversity in a flood zone and treat stormwater onsite.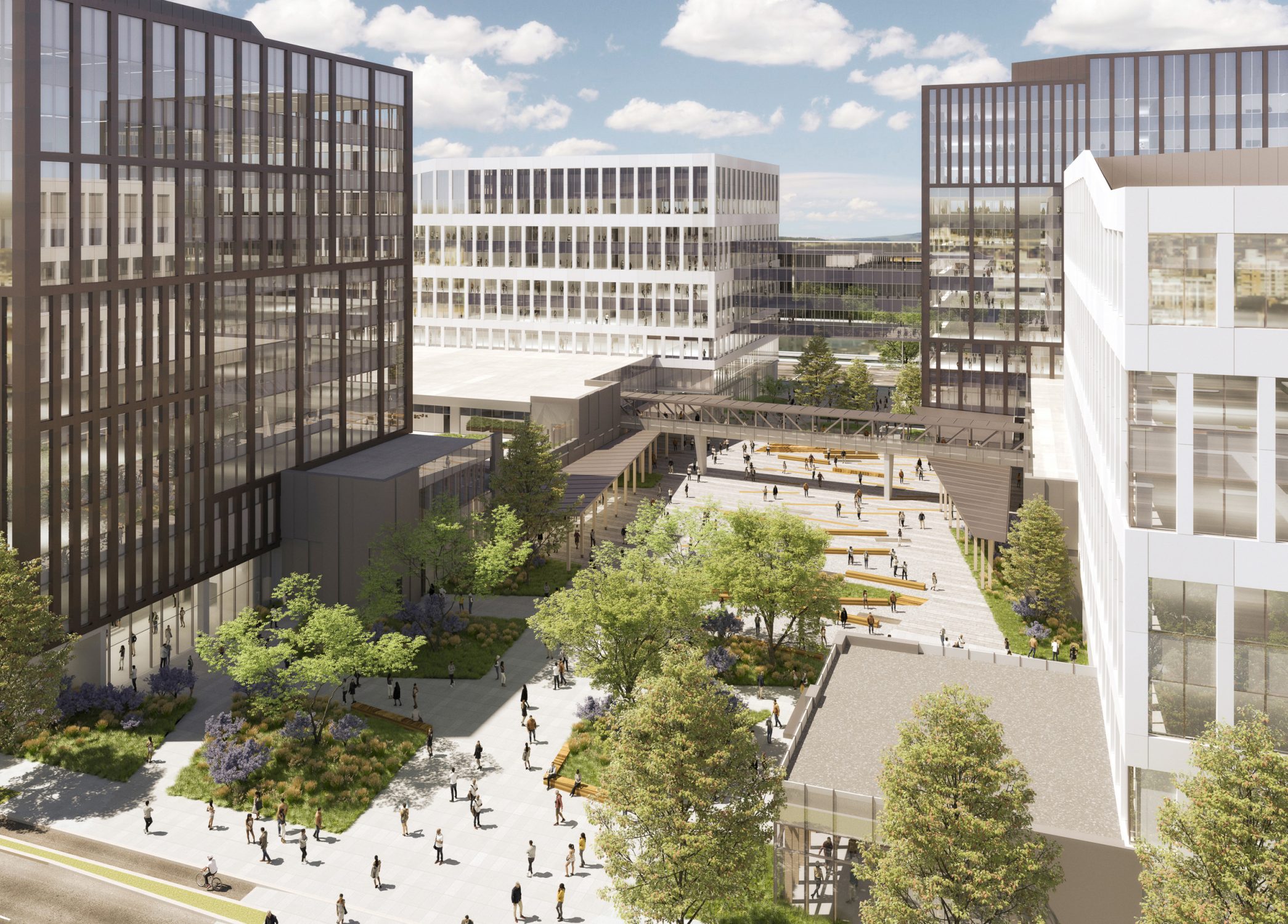 PROGRAMMING INFRASTRUCTURE
The ecological corridor created by RBOC's landscape consists of interludes serving as programmable infrastructure: the Green Pathway, Transit Plaza, Town Square, Bannon Street Plaza, and performative greenscapes in the surface parking lot and perimeter streetscapes.